Experience. Ideas. Impact.
speakers
TV Presenter, Journalist & Producer
Based in Singapore and with a strong understanding of Asian financial, economic, political, environmental and social issues, Rico Hizon is a widely recognized and experienced face of Asian business issues in the media industry.
Drawing on over 21 years in broadcast journalism in The Philippines, Hong Kong and Singapore, Rico is a highly seasoned moderator, interviewing business leaders on a daily basis, helping to interpret and understand key developments around Asia as they unfold. Mr. Hizon's focus is on squarely on Asian business issues, capital markets, banking and finance, real estate, investment and corporate developments, reporting on the latest business and financial issues impacting the region. His recent reports have also taken him to Hong Kong, Indonesia, Japan, South Korea, Thailand, Malaysia and the Philippines.
Director, Global Innovation Alliance Programme Office
Economic Development Board
Mr. Chan graduated with a Bachelor of Science in Biomedical Engineering from Brown University, and a Master of Science in Bioengineering from Stanford University. He furthered his education journey with the Master degree of Business Administration at MIT Sloan School of Management.
Chan is currently holding two positions as the Director (Consumer Businesses) and Director (Global Innovation Alliance Programme Office) at Singapore Economic Development Board.
Prior to this role, he has worked on certain different positions at EDB, starting his career since 2005.
Chan is also the author of some articles published on The Business Times, The Straits Times and EDB's official website, discussing the Silver Economy Business Opportunities in Singapore.
Director, Food & Nutrition at Biomedical Research Council
Agency for Science, Technology & Research (A*STAR)
Ralph Graichen is currently Director, Food and Nutrition, Biomedical Research Council (BMRC) of the Agency for Science, Technology and Research (A*STAR), Singapore. In his current position with A*STAR, Ralph is working with strategic partners to administer and develop new initiatives and programmes in the research areas of food and nutrition. He has a co-appointment as Adjunct Associate Professor with Nanyang Technological University, School of Chemical & Biomedical Engineering. He also sits on the advisory panel of the Food Innovation & Resource Centre, Singapore Polytechnic as well as multiple grant review committees.
Ralph has over 12 years of experience in the local and global biomedical and nutrition industry. He was previously Research Operations Manager for Abbott Nutrition in Asia, establishing the R&D infrastructure and managing the research portfolio for Asia.
Global Food Safety Consultant
Former Scientist at World Health Organisation
Gerald Moy recently retired as a staff scientist with the Programme of Food Safety at World Health Organisation in Geneva, Switzerland. He has played a key role in exposure assessment and risk characterisation of chemicals in food, including food additives, pesticide and animal drug residues, environmental contaminants and naturally occurring toxins. Dr. Moy served as the Manager of the GEMS/Food Programme, which has established a global database for food contamination and which develops and applies exposure assessment methodologies for chemicals in food, particularly pesticide residues.
Gerald is the author of numerous articles and publications. He most recently completed chapters for two books. One chapter, entitled "The Role of National Governments and International Agencies in the Risk Analysis of Mycotoxins" was published in Mycotoxins in Agriculture and Food Safety, Marcel Dekker, New York. The other chapter, "Codex Standards for Pesticide Residues" was published in International Standards for Food Safety, Aspen Publishers, Gaithersburg, Maryland. His latest publication, "Healthy Marketplaces: An Approach for Ensuring Food Safety and Environmental Health" appeared in the Journal of Food Control. and Life Sciences in New York where he was an Institute for African Development Fellow.
Christiani JeyaKumar Henry
Director of Clinical Nutrition Sciences
Agency for Science, Technology & Research (A*STAR)
Christiani Jeyakumar Henry, trained as a food scientist, played a key role in the development and launch of the UK's first dedicated Functional Food Centre. He was Head of Food Sciences and Nutrition at Oxford Brookes University, and Director of the Functional Food Centre in Oxford, and served on committees including the UK Committee on Medical Aspects of Food & Nutrition Policy (COMA) panel on novel foods, the UK Food Standards Agency and the General Advisory Committee on Science (GACS) of the Food Standard Agency (FSA). He also served as a panel member on the Department for International Development (DFID) health & population research committee.
He was a member of the recent Joint FAO/WHO consultation on fats and fatty acids in human nutrition and has also acted as a consultant to the FAO, WHO and UNICEF, and to global food companies on aspects of food product development with special reference to Nutrition. His major research interests are in Energy Regulation, Functional Foods, Obesity, Glycaemic Index, Energy and Protein Metabolism and Nutrition in the Elderly.
Executive Director
Food Industry Asia
Matt Kovac is a seasoned corporate affairs professional with more than 18 years of experience specialising in stakeholder relations, policy analysis, government relations and journalism.
He drives the establishment of multi-stakeholder platforms and capacity building projects on areas related to health and nutrition, food security, trade liberalisation and regulatory harmonisation. This is done through forging sustainable partnerships with a variety of government agencies, regulators, academia, NGOs and IGOs.
He holds an MBA at the UK's Lancaster University Management School.
Lead Agricultural Economist
World Bank
Steven Jaffee is a Lead Agricultural Economist with the World Bank's Agriculture Global Practice. His research, policy and investment project work over twenty-six years at the World Bank has spanned many themes including food security, food safety, agricultural risk management, agricultural policy, value chain development, and trade and standards compliance. He has extensive field experience in Africa and Southeast Asia.
In recent years, he has co-led major (East/Southeast Asia) regional research projects on rice and food security, agricultural pollution, agri-food system transformation, and agri-environmental measures in export industries.
He is currently coordinating a global study aiming to strengthen the economic case for public investment in food safety in low and middle income countries. He has a BA from the University of Pennsylvania and a DPhil in agricultural economics from Oxford University.
Food Industry Liaison
National Heart Foundation of Australia
Elizabeth Joldeski is the food industry liaison for the Victorian Division of the National Heart Foundation of Australia on an innovative salt reduction project in conjunction with the Victorian Salt Reduction Partnership.
She is developing close relationships with food manufacturers large and small including major supermarkets in Australia to encourage and inspire them to develop healthier products for the Australian population with a focus on reducing sodium.
Prior to joining the Heart Foundation, Elizabeth served in senior management roles managing government relations and stakeholder engagement functions across a number of major health and wellbeing organisations including The Good Foundation and Jamie Oliver's Ministry of Food, the Red Cross Blood Service and developed a landmark international health engagement strategy for the Victorian Department of Health.
Director, Asia
Forum for the Future
Ariel is motivated by the ability of designers and entrepreneurs to innovate new products and services based not just on past successes, but on future possibilities and preferred future outcomes.
Her foray into the overlap of design, business and sustainability began formally at Bainbridge Graduate Institute, a pioneering MBA program that integrates sustainability into every course. Since then, she has worked at Saatchi and Saatchi S to design and deliver sustainability programs with companies such as WalMart, NBC Universal, Duke Energy and Procter and Gamble and at the collaborative strategy and design firm, Helsinki Group. In New York, she was an adjunct faculty at Parson's New School in a program that integrated design thinking, systems thinking, urban policy and environmental science.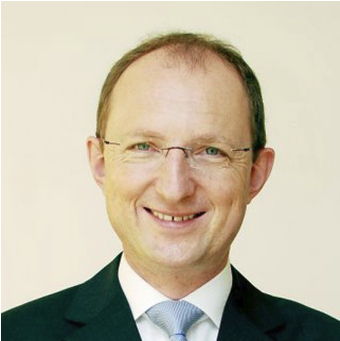 Chief Customer Officer
Unilever
Gerald Kühr is the Chief Customer Officer for Unilever and is responsible for C-level strategic relationships with their biggest customers, and the strategic development of their sales function across the world - leading over 100,000 people.
He joined Unilever since 2010 as the SVP European Customer Development. Prior to working at Unilever, he was a principal at Bain & Company, working under the European FMCG & Retail practice with a focus on Sales, Marketing and Organisation.
Gerald holds an MBA in Marketing and Controlling at Linz University.
Chief Executive Officer
ibn360
Regina has more than 30 years' experience leading development and health programmes in emerging markets. She began her career with the Red Cross and Red Crescent, leading major relief operations in Africa and Eastern Europe. She then moved into development, implementing programmes to improve nutrition through public-private initiatives. From 2005 to 2015 she worked for the Global Alliance for Improved Nutrition (GAIN), where she directed the organisation's global nutrition programmes before heading its office in Singapore. She is also a Member of the Advisory Board for Syngenta's Rice Bowl Index, which monitors food security in Asia. She is a Fulbright Scholar and holds an MSc in International Nutrition from Michigan State University, USA and a Doctorate from the University of Bonn, Germany.
Chief Executive Officer
WaBi/Walimai
Alex Busarov is the founder and CEO of Walimai. He developed anti-counterfeiting technology for consumer goods: cosmetics, pharmaceuticals and alcoholic beverages.
Before Walimai, Alex implemented projects in corporate strategy, operational and organisational transformations, due diligence, mergers and acquisitions at McKinsey & Company. His clients were from Europe, Middle East and South Asia in various industries including energy sector, oil & gas, biotechnologies, financial services, chemicals, transportation and logistics, education and the public sector.